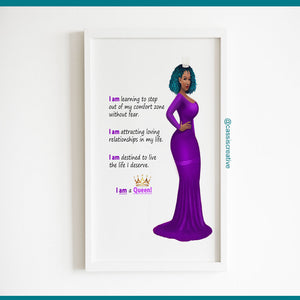 This sleek frame with a light-skinned, melanated, curvy woman in a purple dress standing next to affirmations is an excellent gift for those who want to feel positive. 
One can repeat these words daily to help boost your confidence and self-love; because you're amazing!
The frame can be hung on the wall or placed in your favourite room where you'll be reminded often.
If you love or your loved one loves the colour purple, then this design is perfect!
Dimension:

8x10 inches or 20x25 centimetres.
How long will it take to be delivered?
If you're a UK customer, you'll receive your order within 1-3 days.
If you're outside of the UK, you'll receive it within 7-10 days.