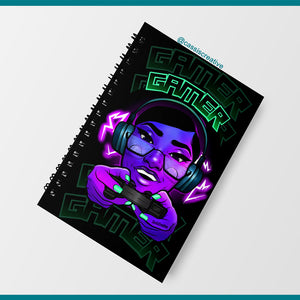 This beautifully designed, lined, notebook with 100 pages gives you the opportunity to write whatever your heart desires. 
On the cover is a happy, friendly, female face wearing a blue headset and holding onto a controller pad with neon nails. The background is black with neon green font. On the left is a black wire binder that keeps the papers together and makes it easier to turn each page.
Below is a list of things you can use it for:
Logbook of gameplay
Studying
Doodling
Writing stories or poems.  
Composing a list of things to do. 
Budgeting money. 
Size:
148.5 x 210 mm / 5.8 x 8.3 inches
You can customise the cover by adding your gamer tag. Add 'name/gamer tag' to your basket and select your colour. We will be in contact to request the wording, or you can send it to info@cassiscreative.com 
We will send you a rendered version for your approval before it's gone into production. 
**Orders are made to order and can take up to two weeks to arrive**